The Children's Hospital Trust (CHT) is proud to call some of the most loved local and international personalities our ambassadors who dedicate their time and energy to supporting our work.
But, being an ambassador for a cause is more than just volunteering your time, it's about using your voice to make a difference.
One such kind-hearted individual is renowned, proudly South African chef, Fatima Sydow.
We recently visited Fatima at her cozy home in Cape Town, to chat about why she'd like to help the CHT with the work that we do to support the Red Cross War Memorial Children's Hospital. This is what she had to say while we enjoyed a cup of tea and her signature orange cake together: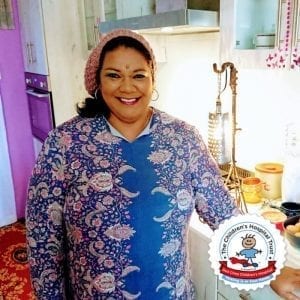 "About 15 years ago, I worked in the Hospital's canteen frying 'slap chips', preparing sandwiches and coffee for the medical staff and families of patients. The cafeteria was abuzz with doctors and nurses quickly grabbing a bite to eat in between surgeries and when they had a few minutes to spare before the next ambulance arrived.
I got to know them, and they were phenomenal – hardworking and dedicated and always mustered a smile despite the constant emotive and traumatic situations faced with when trying to save children's lives.
One day I decided to treat them and the families of patients to hearty meals to keep them going, so I added roast chicken and vegetables with sweet yellow rice and salads, as well as soup and curries to the menu. I'd bring my own spices and ingredients to create my special dishes.
Food brings people together, and when cooked with love and passion, it can uplift and brighten someone's day. It therefore brought me great joy to see medical staff and families entering the cafeteria with a longing for my cooking.
They'd ask, "what's on the menu" and I'd say, "it's Sunday lunch!" The feeling I got watching them enjoy a meal made feel happy. And that's what food does for me – it's my vehicle for bringing people together.
You spend a great deal of time at your place of work, so the Hospital was my second home and the staff, my family. It was also my place of solace because, at the time, I was struggling in an extremely abusive marriage.
Unable to have children of my own, I found myself sharing my love with the little ones recovering in the Hospital. If not for the joy and inspiration I found at the Hospital, I do not think I'd be where I am today. The Hospital is a place of hope and healing".
Fatima hopes that her story of resilience in the face of adversity will inspire others to use their voice and talents to make a difference in the lives of others. And she hopes that people will support the work of the CHT in our efforts to help advance child healthcare through the Red Cross War Memorial Children's Hospital.
From cafeteria cook, to bestselling cookbook author, to staring with her twin sister,  Gadija, on the hit TV show, Kaap, Kerrie en Koesisters on DSTV.
Catch the next episode on Thursday, 31 October at 5.30 pm on DSTV channel 147 to see Fatima cooking the very same food that she prepared for the doctors, nurses and families many years ago.
This article was originally posted by the Children's Hospital Trust: https://bit.ly/2JK2e4b