Baked Cheesecake with Fresh Strawberries
4th October 2019
: 15 - 20 people
: Intermediate
This decadent dessert I only make when the ship comes in???? ???????? or very special occasions, when one gets bonus or 13th cheque. It's pricey but so worth it.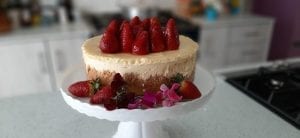 Ingredients
Ingredients for biscuit base:
1 packet of tennis biscuits
100 grams of melted butter
1/2 a cup of roasted almonds
1/2 a cup of roasted walnuts
Ingredients for Filling:
6x 8 oz full cream cheese, at room temperature
500 ml sour cream, at room temperature
2 cups of castor sugar
3 tablespoons fresh lemon juice
1 tablespoon of vanilla essence
5 large eggs
1/4 cup cake flour
2 tablespoons corn flour
Directions
Step 1

For the Biscuit Base:

Step 2

In a food processor, first blitz the biscuits into fine crumbs, place in a bowl.

Step 3

Next, blitz the nuts in the food processor almost fine with a few bigger pieces. Add this ground nuts and melted butter to the bowl as well and mix.

Step 4

Next throw the biscuit base mixture into a large butter greased springform tin and press the biscuits mixture firmly to the base and halfway up the rim of the tin.

Step 5

Next, take two square sheets of foil and tightly wrap the outside and bottom of tin only. Put tin in a deep roasting pan and refrigerate for 30 minutes.

Step 6

Method for Filling:

Step 7

Preheat the oven to 160 °C.

Step 8

In a large bowl, add the cream cheese and whisk with a stand mixer or hand electric mixer until light and fluffy. Next add the rest of the ingredients, except the eggs, and beat well for about 2 to 3 minutes, or well combined.

Step 9

Then beat the eggs in a separate bowl and add it last to cream cheese mixture, mix only until just combined.

Step 10

Pour the cream cheese mixture into the prepared tin and level the top with a spatula.

Step 11

Place the filled tin that's in the deep roasting pan in the preheated oven, keeping the door ajar, carefully pour a standard kettle sized boiling water ( 8 cups) in the roasting pan.

Step 12

Close the oven door and bake for 1 hour and 15 to 20 minutes.

Step 13

Now, open the oven slightly and allow the cheesecake to cool for 60 minutes in the oven. Take the Cheesecake out of the oven, and carefully out of the roasting pan, remove the foil and allow to cool down some more for 2 hours.

Step 14

Next step, place in the refrigerator, lightly covered with a piece of foil and allow to set completely overnight or for 20 to 24 hours.

Step 15

Remove from springform tin, top with fresh berries of your choice or a cup of sour cream mixed with 2 tablespoons of sugar and a dash of vanilla essence.

Step 16

Tips – If you do not have a food processor, finely chop the nuts and for the biscuits, place in a ziplock plastic bag and hit with a rolling pin until you get fine crumbs.