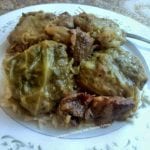 Print Recipe
Cabbage Frikkedel
Ingredients
2

meaty bones or marrow bones

Very important to give depth in flavor

3

onions finely chopped 

3

tbsp

cooking oil

2

tsp

black pepper

1

tsp

salt

3

cloves

3

all spice

1

tbsp

butter

½

tsp

nutmeg

1

large cabbage
For the Frikkadel (meatballs)
500

g

steak mince

5

slices

white bread soaked in water then squeezed dry

2

garlic cloves peeled and finely grated

1

peeled onion, grated

1

egg

1

tsp

salt

1

tbsp

parsley

1

tsp

black pepper

1

tsp

crushed chillies (optional)
Instructions
Heat a large pot or saucepan and add your bones and onions, cloves, all spice and salt.

Braise till brown, then add black pepper and add a cup of hot water.

Cook till onions are almost gravy-like – adding water when needed.

While this is simmering away, we can make the Frikkadel.

Simply mix all meatball ingredients together in a bowl with your hands. Place covered in the fridge while you prepare the cabbage leaves.

Check your pot with the bones and onions and give it another stir to ensure that it doesn't burn. Keep on simmer.

The Cabbage leaves: Separate the Cabbage into leaves cutting the thick vein away or else you won't be able to fold the leaves. Now place the leaves 3 at a time in a large pot with boiling water. Let it cook for just a minute. Remove with a slotted spoon and repeat with other cabbage leaves.



Now take out your Frikkadel mix from the fridge. Roll little balls and place in the centre of cabbage leaves. Roll up into little parcels.

Place cabbage parcels into your brown onion gravy, neatly next to each other and add 1 tablespoon of butter at this stage and sprinkle with a little nutmeg. Allow to simmer on medium heat for 35 minutes.
Notes
Serve with white rice and some lemon atchar.